We've been putting ink on apparel and accessories for over 20 years. If you have a special screen printing project, we can "ink it" for you!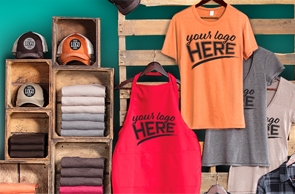 APPAREL & PRODUCTS Jump on over to our catalogs page and browse screen printable apparel from all the big brands and many others.
DESIGN CATALOG

School & Team Focus
Browse through a huge collection of existing designs to help get those creative juices flowing.
GRAPHIC DESIGN
Have one of our talented and professional artists develop a custom design just for you.
T-SHIRT DESIGNER
Our online design studio lets you be the artist. Choose from over 14,000 pieces of clipart from which to build your designs or upload your own art and logos.
NAMES, NUMBERS & TRANSFERS
We also do custom names, numbers, and full color transfers for your team uniforms or your company apparel. Contact us for more information.
What is Screen Printing?
Screen printing is a method of printing in which a porous mesh is stretched over a wood or metal frame, an image is stenciled onto the mesh and then ink is forced through the stenciled area on the mesh thus imprinting the image on a garment or substrate. One frame (screen) is used for each color in the design. If the design requires more colors, additional screens are used for each.
Is there more I should know?
Yes, there are also three main methods to keep in mind when creating and preparing art to be screen printed and it's important to know which one is right for your project. They are Spot Color, Simulated Process Color and Four Color Process. Each method has it's advantages and disadvantages.
Spot color is the most widely used method of developing art for screen printing. It simply means that one screen is used for each color. Typically the colors or screens do not overlap one another but can be printed next to one another. Halftones can be used in the art to create tints and fades of each color or screen. The larger the press, the more colors/screens can be used in the design.
Colors are bright and vivid.
Pantone colors can be used
Easy to create separations for screens.
Easy to set up on press.
Clean crisp look.
Designs with many colors require many screens.
Not ideal for realistic or photographic images.
Simulated process is similar to spot color with the exception that the ink printed through one screen may overlap ink from the other screens thus creating additional tints, fades, and blends without adding more colors or screens. However, it can be a little more complicated to create and set up.
Creates tints, shades and blends without adding screens.
More organic or natural look.
Colors are bright and vivid.
Pantone colors can be used.
Requires more art time and setup time.
Overlapping inks sometimes leads to a less crisp image.
Four color process is a method of printing that typically uses four standard colors. Cyan, Magenta, Yellow and Black screens are used together to produce an entire gamut of colors. The proximity of the halftone dots to one another and overlapping create the illusion of additional colors. While four color process does have disadvantages it is ideal for printing full color, photographic images.
Designs with many colors require fewer screens.
Great for full color, photographic images.
Harder to set up and maintain on the press.
Colors are not as bright and vivid.
Not ideal for printing on colored or dark garments.
Pantone color matching is not possible
Moire or dot pattern interference may occur.
Additional Screen Printing Resources
Visit our ink colors page and choose from a list of our stock ink colors for your project. Custom mixed and Pantone colors are available for an additional charge.
Not all garments can accommodate the same size imprint. Our handy
Imprint Size Chart
 illustrates the size of design that can be printed on different size t-shirts and hoodies.
Helpful Screen Printing Blog Posts
Some of our more recent screen printed creations…